Smartwatch Definition
A smartwatch is a watch bracelet equipped with features that go beyond those of a conventional one.
The first models performed fundamental functionalities, but the current ones are already capable of accessing the Internet.
It is Making and receiving phone calls, sending and receiving emails and SMS, receiving notifications from the smartphone, and even consulting social networks.
Many of the functionalities that they integrate are already available on smartphones.
However, smartwatches have some advantages in terms of comfort, mainly when used for sports or travel.
These devices can include an accelerometer, gyroscope, compass, heart rate monitor, barometer, altimeter, magnetometer, geolocator ( GPS ), speaker, microphone, external memory card slot, etc.
They also have connectivity mechanisms such as Bluetooth (to connect it to the mobile, headphones, or other devices), NFC, WiFi, or USB.
Any device has a processor, memory, input, and output. Information can be collected from internal or external sensors.
You can control or retrieve data from other devices. Many of the smartwatches only serve as an interface for the smartphone.
However, some practically independent ones incorporate a SIM card slot and are called smart telephone watches.
Features of smartwatch
All smartwatches have a series of characteristics that define them as such.
Its parts can be classified in general or technical.
The available features are all those that can be perceived with the naked eye.
Among the technical aspects are the hardware and software.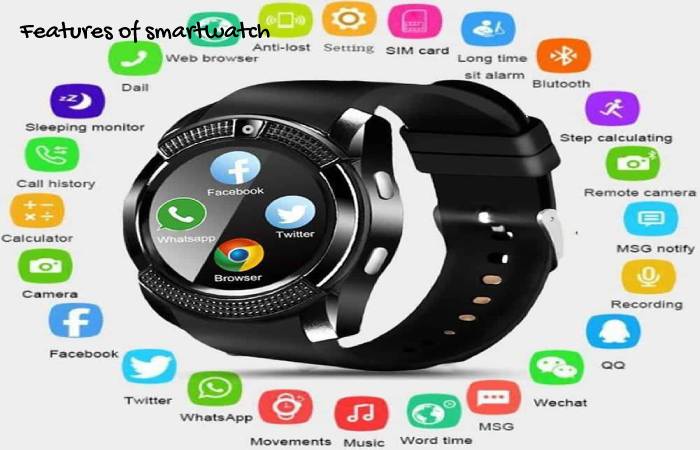 A hardware characteristic is understood to be all given by the physical elements that make up the device.
hardware
On the other hand, the software features are all those that facilitate and allow the user to manage the device to perform specific tasks.
All these characteristics are those that the manufacturers specify in their products.
General characteristics
Among the most relevant general characteristics there are:
Dimensions
The dimensions of most smartwatches range from the same width, length, and thickness measurements.
As far as numbers are concerned, the width and length measurements do not usually exceed 50 mm, but there are always exceptions.
On the other hand, it is usually not more than 12 mm when it comes to thickness.
Weight
These devices' weight is highly variable; it depends on the materials and, obviously, the size.
Materials
Materials used in making these watches are a very determining factor in the product's final weight.
But not only that, the materials will determine the quality of the device, its durability against external agents, and even its comfort.
Protection
Some materials provide more excellent durability and greater resistance to possible damage.
Many manufacturers include the degree of IP protection of their products against other particles and liquids such as dust and water.
Ergonomics
And also, The vast majority of smartwatches retain the same proportions as conventional ones, making them very comfortable apart from being discreet.
Smartwatch Manufactures
The first mobile phone watch with its SIM card came on the market in 1993. The gadget only became a smartwatch through synchronization with smartphones.
Microsoft presented its SPOT model in 2003, which could represent certain information from the Internet.
And also, In the following years, almost all major manufacturers jumped on the smartwatch bandwagon:
Sony 2008: "MBW 150" with information displays and Bluetooth connection to the mobile phone for music playback,
Texas Instruments 2010: "Chronos" using air pressure and acceleration sensors,
Sony 2012: "SmartWatch" with color display,
Pebble 2012: "Casio",
Samsung 2013: Start of the "Gear" series,
Google 2013: Presentation of the Android Wear operating system, a smartwatch platform for coupling with Android smartphones,
Motorola 2014: "Moto 360", the first round smartwatch,
Apple 2014: three models – "Apple Watch," "Apple Watch Sport," and "Apple Watch Edition."
And also, In the meantime, traditional Swiss manufacturers have even become smartwatch manufacturers who equip conventional quartz wristwatches with analog displays with additional functions.
Criticisms
A smartwatch allows the wearer to query information careful and can also observe and equal body functions.
On the one hand, this creates positive personal health care options, sports and fitness, and go with patients or senior citizens.
Above all, however, critics see data protection problems and user' information autonomy because the devices' omnipresence at the same time allows numerous monitoring options.
And also, Information and technology ethics write for us , as well as law, requires here to develop possible solutions.
The economic and technical challenges for the future of the Smartwatch are the integration into the growing mobile business and the extension of the previous short battery life.
And also, Here research is being carried out into generating electricity by moving the arm.